Your Local Cosmetic Dentist North Vancouver
Lonsdale Dental Centre
Cosmetic Dentistry Services
At Lonsdale Dental Centre we know the tremendous difference a whiter and healthier smile can make.
The team at our North Vancouver dental clinic wants you to feel at your best at all times.  A healthy and happy smile creates a sense of inner well being and we naturally feel better, more confident and successful in our daily endeavors. A whiter, brighter and healthier smile can improve our everyday experiences as we shine among friends, colleagues and family.
At Lonsdale Dental Centre, we take great pride in our cosmetic dentistry services. We believe anyone can have a beautiful smile!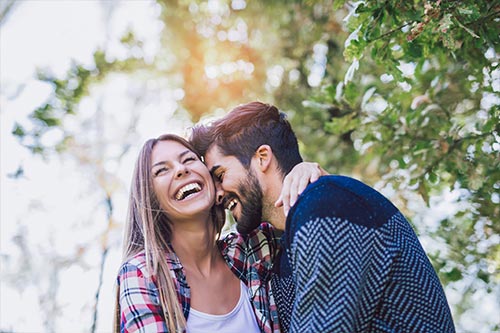 Do you constantly hide your smile and prevent yourself from laughing and living in the moment because you are embarrassed about your teeth and smile? Everyone deserves to laugh and smile and the Lonsdale Dental Centre can fix your smile so you feel nothing but confident and attractive. We can whiten a smile and set of teeth in just one hourly visit with our Pola Whitening, replace old silver teeth with white and natural-coloured fillings or perhaps get rid of that gummy smile that has been bothering you for years.
If you have an irregular, damaged or broken tooth or imperfect spacing between your front teeth, don't worry.  Our dental experts can bond porcelain veneers over your existing teeth to create a natural and compelling smile.  These ultrathin porcelain shells are custom sculpted to the shape and size that matches your face, and to deliver the brightness and lustre that you desire.  Veneers are very durable and provide you with a solution in only a few appointments.
Invisalign® treatment uses 3-D computer imaging technology to depict the complete treatment plan from the initial position to the final desired position from which a series of custom-made "Aligners" are produced. Each "Aligner" moves teeth incrementally and is worn for about two weeks, then replaced by the next in the series until the final position is achieved.
Aligners are made of clear, strong medical-grade plastic that is virtually invisible when worn. They look similar to clear tooth-whitening trays, but are custom-made for a better fit to move teeth. Some orthodontists and dentists have referred to them as "contact lenses for teeth."
Call to book your 30 minute complimentary Invisalign consultation.
We are a SILVER Invisalign Provider
Dr. Reeti Soni is a SILVER Invisalign Provider, which is because of their level of education and experience with Invisalign.